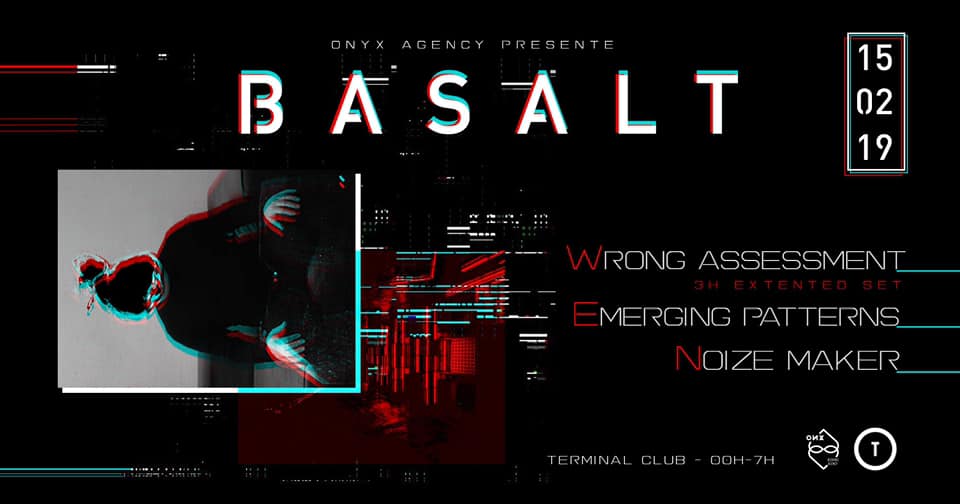 Onyx 'Basalt' : Wrong Assessment, RIP Max, Emerging Patterns, Noize Maker
"Les âmes énergiques, comme les volcans, jettent de grandes lumières et de grandes ténèbres."
Evolutions Anciennes, Livre I., Part I., Chap. LXIII. – Chateaubriand
_____________________________________________
LINE-UP
× Wrong Assessment (3hours Dj set)
Mord Records – C L E R G Y – AWRY
Wrong Assessment est un Dj, producteur et manager de Milan.
Sa musique est sortie sur des labels tels que M_REC, Planet Rhythm, Pole Group, Mord and Clergy, ce qui lui a permis de jouer dans toute l'Europe, aux Etats-Unis, en Amérique du Sud et il est sur le point de tourner en Asie.
Il a fondé AWRY, une plateforme pour sortir sa musique et celle d'autres artistes, basée sur un terrain commun de Techno profonde, hypnotique et minimaliste.
Il fut également sur le projet Overal Severity avec son mentor.
Max_M.
RIP Max
SC : https://bit.ly/2FiuIS5
RA : https://bit.ly/2M3oSo5
× Emerging Patterns (Live audiovisuel)
WAWH music – High-Jack Records
« Un nerd »… Voilà le premier truc qui vient à l'esprit quand il s'agit de qualifier le mec qui se cache derrière Emerging Patterns… "Bidouillages maison", "bidules à piles", synthés peu connus et détournement des machines iconiques, ses lives sont un assemblage hétéroclite et changeant de sonorités intemporelles et d'expérimentations. Les Djs diggent bien leurs disques en fonction de l'endroit et l'heure auxquels ils jouent, non ? Alors pourquoi les live-acts ne devraient-ils pas faire de même avec leur setup?
Si ses lives sont en général percussifs et énergiques, le spectre développé par notre bidouilleur quand il produit s'élargit, allant de l'ambient à la techno en passant par la musique expérimentale. Ses morceaux sont sortis notamment chez Subsist (ES), Bleepsequence (USA), WAWH Music (FR) ou plus récemment Perchépolis (FR).
SC : https://bit.ly/2Nu9yA4
RA : https://bit.ly/2RCPzWa
× Noize Maker (Dj set)
Qubiq Records
Issue de la scène rave, Noize Maker est animée par une techno dark acid avec des basses lourdes et puissantes. Producteur et membre de XLR Events, il se produit en live et en Dj set depuis plusieurs années. Il puise ses influences dans le mouvement rave party et à l'âge de 19 ans, il achète ses premières machines analogiques et continue d'enrichir sa mise en place dès que l'occasion se présente.
Passionné par le grain chaud des vieux synthés, il cultive une techno sombre et incisive qui capte les pistes de danse.
______________________________________________
EXTRAS
× Emerging Patterns First live Audiovisuel
× Report photo by SEEP
___________________________________________
LES MEDIAS/PARTENAIRES
× Le Bonbon Lyon
× Make x France
× focuSur.fr
× Le Baronet Noir Barber
× VSS
× ZYVA
× Dure Vie
______________________________________________
LES INFORMATIONS PRATIQUES
• Vendredi 15 février 2018, 00.00 – 07.00
• Terminal, 3, rue Terme 69001 Lyon
• PAF : 10€
Raw talent. Onyx Agency
______________________________________________
ENGLISH VERSION
Wrong Assessment is a dj, producer and label manager from Milan, Italy. His music has been released on labels such as M_REC, Planet Rhythm, Pole Group, Mord and Clergy, which allowed him to play all over Europe, in USA, in South America and he's about to tour across Asia.
He founded AWRY, a platform to release both his and other artists music, based on a common ground of deep, hypnotic and minimalistic Techno.
He was also on the Overall Severity project together with his mentor Max_M.
Because of his passion for DIY stuff, battery powered doodads, unconventionnal synths or iconic hardware revisited, emerging patterns live PA is a mixed and always renewed fixery of straightforward techno and lesser easy sounds. Well… DJs are digging their crates before a gig, don't they ? Why live acts shouldn't do the same with their stud' ?
Emerging Patterns broadened its horizons and released stuff going from ambient to techno and beyond on Substist (SP), Hello Strange (RU), Deep Electronic (NL), Bleepsequence (USA), WAWH Music (FR), Perchépolis (FR) and now your local powerhouse High-jack Records.
This time he'll invite you in the Garden of earth delights for his first Audiovisual live act.
Emerging from the rave scene, Noize Maker is animated by a dark acid techno with heavy and powerful bass. Producer and member of XLR Events, he has been performing live and Dj set for several years. He draws influences from the rave party movement and at the age of 19, he buys his first analog machines and keeps enriching his set up as soon as the opportunity arises.Passionate about the warm grain of the old synthesizers, he cultivates a dark and incisive techno that captures dance floors.