Giovanni Verrina
All Inn Howl Records • It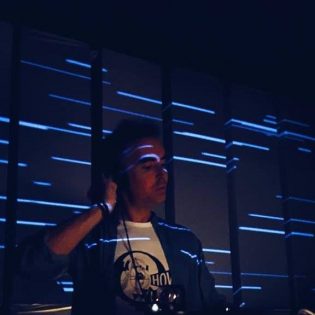 Facebook
Soundcloud
---
His Dj style, with his eclectic taste, grows up from techno/experimental music and joins a more-soft-but-still-groovy sounds, from cutting – edge techno to dubby stuff and house Detroit. His performances are all about a permanent research of the world's most underground sounds, exploring from Detroit to South America,to Berlin.
Giovanni is not only a Dj , in the last two years he literally has fallen in love with machineries. He built up his own studios during 2009, equipping it with a cool mix of old school instruments like Roland 808 ,707 and tb 303 and new computer technologies. In the "loculus" , as his friends playfully like to name it, he's spending hours every day producing new tracks for his dj sets and looking for the perfect sounds he loves, raw but with a soul, something he remembers and did find in the old Chicago house records.
He released on All Inn Records as Sailor Mood ,two amazing underground ep Harlequin and Jareth balls,old school flavour then he change a bit sound with his partner g.ventura for other different release on All Inn,Nilla Only300, Aeternum, Keyall, Bodyparts,Untold Stories.
In the last years he has played in the most important Club in Italy, like Goa (Roma) Guendalina (Lecce),Magazzini Generali (Milano) Dr Sax,Tenax ( Firenze ) Gamma (Torino),Mercati Generali (Catania), Circolo degli illuminati (Roma),Velvet (Napoli) Kama Kama (Camaiore). He's also collected several internatinal experiences, playing in important scenery like Sonar off (Barcellona), Cocoon (Frankfurt) , Tresor ( Berlin), Kristal (Bucarest),Space (Mykonos) Arma17 (Moscow) Gipsy (Moscow), Boom Boom Room (Kiev) ,Feeleed (Odessa) Kazantip (Ukrain) Hoppetosse , Chalet (Berlin)
Evenements