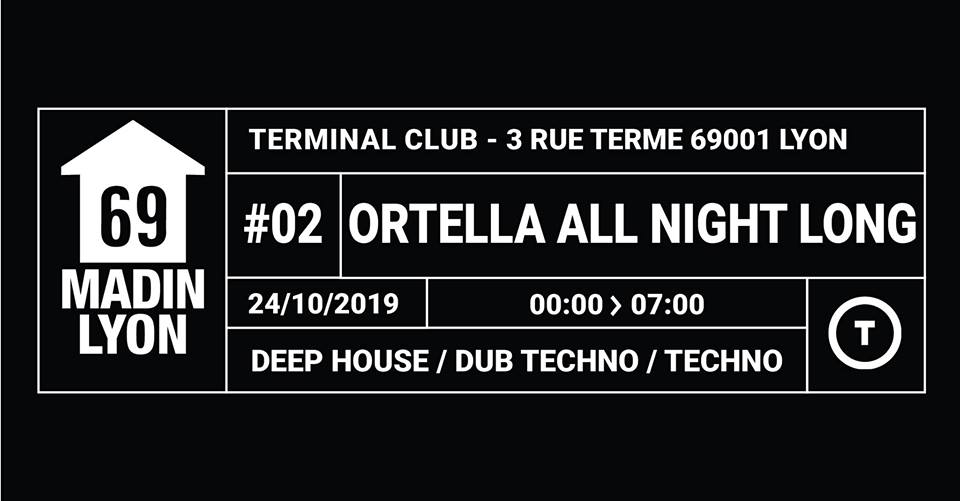 Mad In Lyon : Ortella All Night Long
MAD IN LYON
JEUDI 24 OCTOBRE
FROM THUGS TO CLUBS
ORTELLA ALL NIGHT LONG
TERMINAL CLUB
4€
Pour cette seconde édition "MAD IN LYON" dans la boite noire, ORTELLA boss du Label Mad Recordings sera seul aux commandes.
▬▬▬▬ LINE-UP ▬▬▬▬
-ORTELLA – LYON
Bio:
Ortella, according to Thump Magazine, considered as the The King Of Clubbing in lyon,
not because of his attitude but for the constant work he achieved the last ten years.
Discreet as a person but also as an artist, his musical presence is everywhere in the house scene,
from MadHouse records of Kerri Chandler's Label and Rutilance Recordings with DJ Steaw where he gets the bigger focus with 3 EPs,
but also before through Dj Deep Deeply Rooted house or even few appearances on Louie Vega compilations to his nowadays own imprint, Mad In Lyon and 800 Series,
released on his new home Mad Recordings.
The producer style is versatile, mostly Garage, House and New-Jersey house oriented, but, he can always surprises with some Deep-House vibes, Debby House, Space Disco or Dub techno flavored tracks.
No limits for Ortella, as said his motto From Thugs To Clubs and as tattooed on his left arm.
Music is a quest and thats the only things matters.
From Johannesburg to Shibuya, Ortella sticked to his image and to his passion,
giving the best of it and always sharing with pleasure what he learned day to day during this long journey.
SC : https://soundcloud.com/madortella
FB : https://www.facebook.com/madortella/
SC Mad Recordings : https://soundcloud.com/mad-recordings
▬▬▬▬💰 TICKETS ▬▬▬▬
💶 SUR PLACE : 4€ (GRATUIT AVANT 1H )
💳 CB acceptée.
▬▬▬▬🔍 INFO PRATIQUES▬▬▬▬
📍 Terminal
✓. 3 rue Terme, 69001 Lyon
Soirée réservée aux personnes majeures, une pièce d'identité pourra vous être demandée à l'entrée.